Maybe you've been watching those online renovation videos and seeing pictures of modern bathrooms. You spot the large baths and comfy spa-like rooms or have been on holiday and admired your hotel room's wash space design. Regardless of the reason, if you've recently found yourself dreaming of a new bathroom but aren't sure where to start, you've come to the right place.
New bathroom ideas are incoming! A new bathroom requires extensive planning. What better way to help than with a must-do guide? Here you'll be able to find out what you need for your bathroom, as well as tips and tricks to ensure your new washing space is as comfortable as possible with every visit.
---
Table of contents
---
Make a bathroom plan with a new bathroom layout
Slow and steady wins the race – your race. Don't hastily write down a new plan because you have much to consider, including the drainage, the furniture, the theme and more. So, take your time to understand your needs and what you can and can't do with the new design to avoid disappointment during the installation of your new bathroom.
Importantly, think about how you want to use your bathroom in future. Use this as a base for the plan. In what order will you use the fixed furnishings like the toilet and sink? Do you prioritise the shower/bath over the toilet? A general recommendation is the sink/basin is to be put by the exit door of the bathroom. Likely because the sink will be used last in a routine visit. That way, other furnishings like showers, baths and toilets can be hidden further inside the bathroom for privacy.
If you're working with your existing layout, you will have to adapt it if major changes are on the table. Think about the small ways you can adjust the effectiveness of your bathroom. Do you want to add more space? Consider turning the bathroom into a wet room to make moving around easier.
Cost can be a big factor too. Especially when it comes to electrics in traditional homes because many had poor planning. So, look out for what you need to change. Think about the storage space you might need, whether you need smaller radiators or even moving the sink/basin from beneath a window to another area of the room so you can hang a mirror above it. Particularly if your WC is in a separate room to begin with.
Start with some inspirational bathroom furniture ideas via our guide.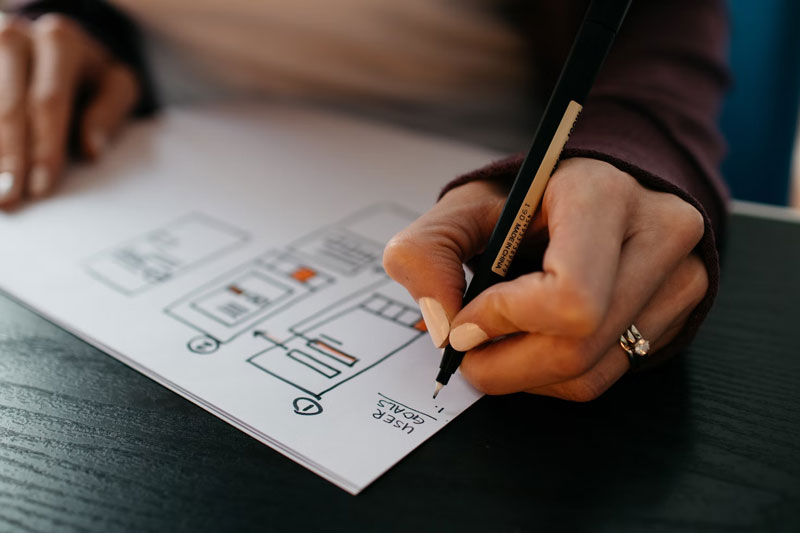 Preparing a small bathroom layout
Smaller bathrooms are not the be-all and end-all of bathroom design. The right approach can ensure you maximise the space for a more efficient layout. A prominent and effective way is to use as much of the visible flooring area as possible. A free-standing bath with feet or sitting on a plinth is one way of doing this, as it can work well as a focal point of the bathroom. However, for even smaller spaces with limited access points, a short roll-top bath, slipper bath or back-to-the-wall bath is recommended as an alternative. So, you can still have the space to move around and a bath to relax in when you need.
A high-level toilet also makes for more visible space. This is because the cistern will sit above eye level. Wall-mounted basins also work as they don't take up floor space and give you more room to play around with furniture design.
A key thing to remember, however, is not to cram large items into a small space. This will make the room look cluttered and reduce the quality of the aesthetics.
Find out more about saving space in small bathrooms with our insightful guide.
Think about your future bathroom and what you can do to preserve its quality
Fitting a bathroom isn't easy, so you'll want to ensure your design lasts. Think carefully about what you want for your bathroom design and how you might change your bathroom habits.
Don't use a shower/bath too often? You might want to, in future. Especially if you find that you have more or less time to spend cleaning your bathroom (e.g. preparing for work). If you're unsure about whether to choose a shower or bathtub, read our 5 essential considerations to help you decide. Stuck on safety? Think about an option for shower fittings that can help the shower mixer maintain a regulated temperature for the family for safe and independent cleaning habits. For more help in this area, see our guide to find out how to fit a mixer shower.
Worried about space? Consider a wet room with step-free access. This is an alternative to enclosures for baths and showers. Ideal for family bathrooms where independent showering habits are greatly desired.
Why not read our handy guide on how to install a wet room before you start?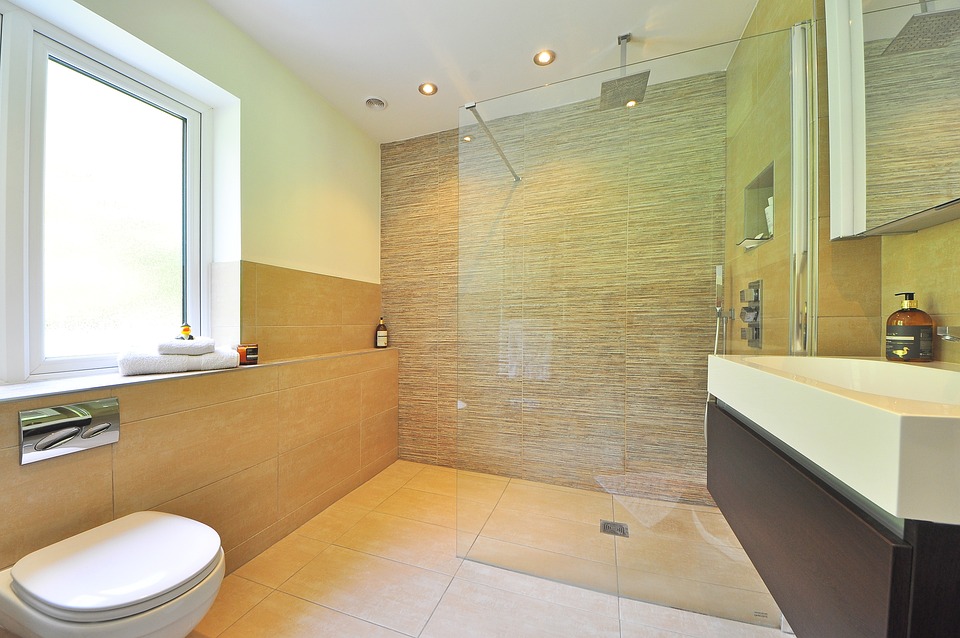 ---
Is your bathroom design eco-friendly?
When designing your new bathroom, contemplate how environmentally friendly it will be. This can also be a great way to improve its resale value since many modern homeowners opt for bathrooms that can help save more water.
Over half of our water usage is thanks to our bathrooms, with a whopping majority of it from using showers, baths, taps and toilet flushes. Now, of course, it's not sensible to minimise our toilet usage or prevent our use of the bathroom altogether. So, what's the solution?
Well, if a bath is a must-have, you can always consider a bath with no pre-drilled overflow. This means you can place the bath in a lower position, using less water when you're having a nice relaxing soak.
Find out more about average water usage throughout the home in this 2018 report from Energy Saving Trust titled At home with water. You can also check our 10 energy-saving tips to help you with your energy bill.
---
Utilise bathroom accessories where possible for ultimate style opportunities
Bathroom accessories are a must-have. From soap dishes to towel rings and even toilet roll holders. Possibilities for those little added touches are endless and can make your bathroom feel like your own. Even a fixed bath screen can be a beautiful addition to your bathroom's design. Adding uniqueness and practicality by preventing water from splashing on the floor.
If your bathroom has windows, enhance privacy with blinds. They come in many different styles and colours, perfect for matching your desired theme.
Storage is also something to consider, even if you have a smaller bathroom space. You can opt for wall-mounted storage to minimise the space you use and still have an area where you can store additional items for a neat bathroom space.
Find out more about the benefits of wall-hung vanity units.
Think about brass bathroom fittings
If you haven't already, think carefully if you are using brass fittings. You'll need ones that last as they will have water running through them continuously. Low-quality brass fittings can have a higher risk of breaks, so make sure that you invest in brass fittings that will last.
Putting your money into higher quality fittings also matters for practical reasons as brassware is typically fitted in the wall with no direct access for repairs. Therefore, a longer-lasting fitting can help you save time and money later should a repair need to be performed.
Style is also important. If choosing brass for all fittings (taps, accessories, plugs, wastes, etc), it's best to match these. Typically, matching fittings can be provided to remove the need to painfully find matching parts. If not, you risk your bathroom looking strange with varying brass colours. Moreover, when pairing fittings with a shower, consider alternatives to chrome designs for brassware, as this can impact the style more than you think.
Alongside brass finishes, look to other metallic options like copper. These can give your space a warm feeling and rich design. Alternatively, if you want something more industrial or with simple colouring, graphite or nickel can suit a more minimalist design.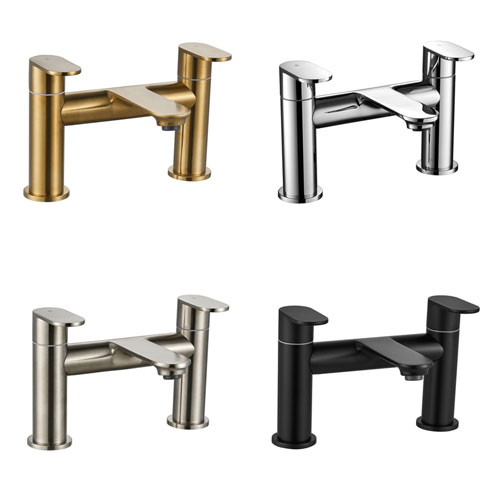 Don't forget a heated towel rail
For many, stepping out of the shower can be a nightmare. Especially during colder temperatures, as you may have those days you forget to put the heating on or leave your towel(s) in another room. So, you're rushing out to find it as quickly as possible before you freeze. That's why a heated towel rail is the perfect way to prevent these issues.
As well as heating the towel, this heated rail is a great way to warm up the room. You can find all sorts of different-sized towel rails too. If you have enough space, you can also fit a radiator in the bathroom alongside the towel rail for that extra heat.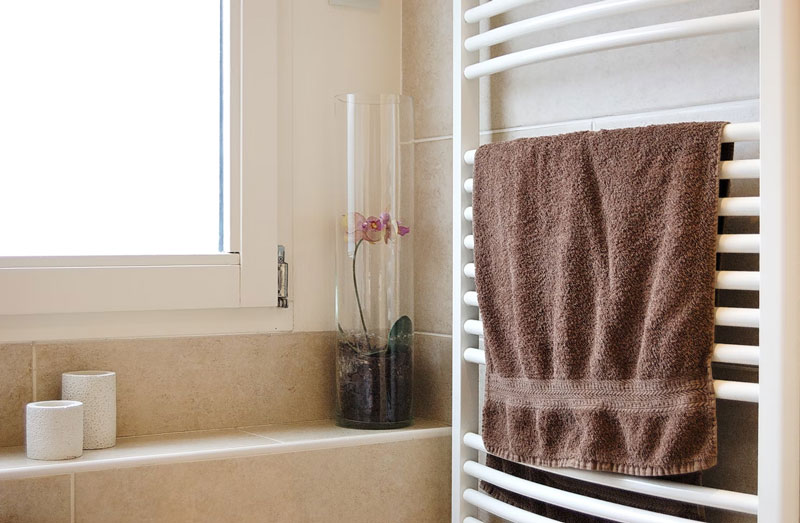 ---
Check your bathroom drainage suits the new layout; if not, change it!
Halt! You can't just perform a full bathroom renovation without thinking about plumbing solutions. In fact, every major bathroom adjustment should include drainage considerations. These are as follows:
Soil pipes
Drainage
Pipework for waste
If the change to the bathroom is small, this can typically be performed by directing a replacement using new sanitaryware. However, one of the bigger challenges is toilets. There are limits to their positioning because of how the waste falls. So, make sure to choose where the toilet is located, and then you can decide the positioning of the basin, bath and shower. This is because the pipework can be more flexible when doing a reshuffle.
Once the hard part's done, you can now move on to choosing your theme, colours etc. Regardless, if you're still not confident with the drainage plans or you're not familiar with the drainage requirements, seek a professional for support to ensure you have the right plan in mind.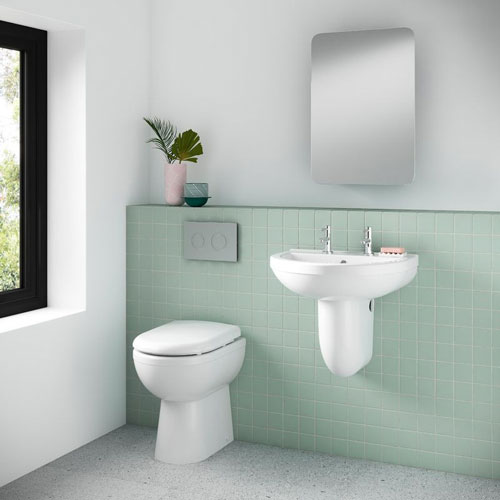 ---
Consider the different types of bathroom floor materials to find the right one
Choosing the right floor for your bathroom is essential. Not only in terms of design but practicality too; but more on that later. Remember, you want a floor that will not only fit your desired theme but be kind to your bare feet too as you'll likely be walking in there without socks and shoes most of the time.
A suggested and popular choice is bathroom floor tiles. These are beautiful and practical options. They bring out the best in bathroom design and are hard-wearing for long-term use. They're also available in a wide variety of materials, including porcelain.
Porcelain tiles are a much-loved type of tile because of their sturdiness and good-looking appearance. Alongside traditional bathroom styles, they can be a great choice for a wet room too. They're also durable against detergents or other chemicals that are regularly used for bathrooms and can be designed to look like other tile finishes. Including marble, wood, concrete, limestone and metallics.
Whichever you choose, make sure to consider the tile's slip resistance. A tile's R rating matters. In most cases, a natural finish is possible. However, wet rooms are more complicated. Therefore, porcelain tiles with an R rating no lower than R11 should always be considered the primary choice for floor tiles. Ensuring friction is more prominent to prevent those unwanted slips and trips.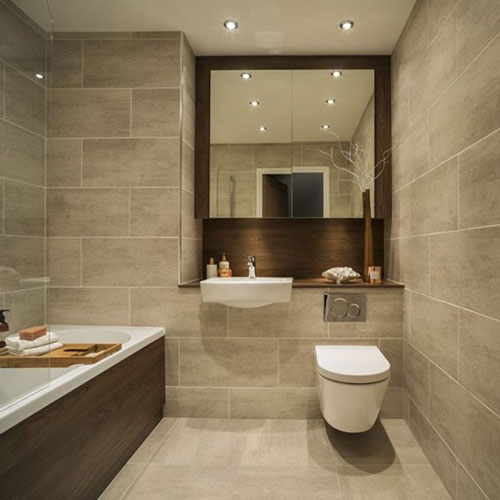 ---
Look closely at showers
Choosing a shower means more than just picking out the size, shape and design. You're going to need to think about the water pressure, its placement and even the shower tray.
Know your water pressure before buying a shower
Water pressure measures in bars. As seen below:
One bar = force needed to push water up to a height of 10 metres
Your water pressure depends on how close your home is to the nearest water source. For valley homes, you're more likely to have high water pressure. If your home is positioned on a hill, your water pressure will be weaker. Additionally, water pressure comes in three types.
Gravity-fed (Low-pressure water)
If the water is supplied via a cold water tank in the loft and a hot water cylinder upstairs in the property, this will have low water pressure. There is a selection of taps to choose from with flow rates that can accommodate minimum pressure bar requirements below one bar. For those low pressures that go to the extreme, choose a mixer tap with a minimum pressure below 0.5 bar to suit.
Combi-boiler systems (High-pressure water)
Typically located in the kitchen, this boiler unit has no hot water cylinder. For this high-water pressure system, look to the variety of taps designed with a flow rate of five litres per minute for reliable results.
Unvented/pumped systems (High-pressure water)
This is a high-pressure hot water cylinder system with an expansion vessel. You can typically find this in the airing cupboard without a cold-water tank.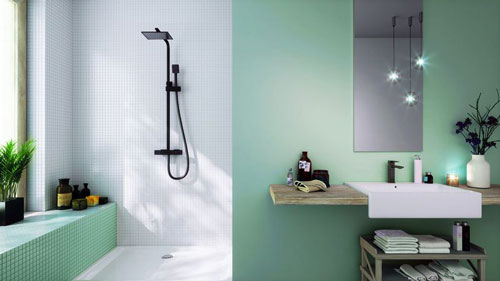 Examine different shower trays to get the right one
Shower trays are not just an additional aesthetic need, but a requirement and an important one at that. Small bathroom designs and awkward areas will likely require cutting the shower tray. Not all trays can be, so make sure to find one that is easy-to-cut on-site to match the shape and size of the space. For bathrooms that don't require the need to trim a shower tray, you can pick pretty much any design and finish you like.
Flush shower trays are a popular solution for many as people admire the simple, plain style as it's neat and does not overdo the traditional design. They're also ideal for people who have difficulty with mobility. However, for a shower tray to be installed, the pipework for the waste needs to be installed under the floor so that the water escapes from the shower and transfers to the soil pipe. So, to avoid issues with running pipe work under the floor, make sure nothing is preventing you from creating a system in that space.
Potential issues you are the following:
Concrete floors
Too many pipes under the floorboard to insert a waste pipe (pipe obstruction).
Critical joists obstruct the pipes; would require adjustments which risks weakening the structure of the floor.
Additionally, water must flow away from the downhill of the tray below gravity. Every section of waste pipework must fall away for adequate drainage. This system design also helps minimise the risk of blockage. So, you may need to have the shower tray fitted and lifted off the floor so the wastewater can run downhill to the closest point of drainage.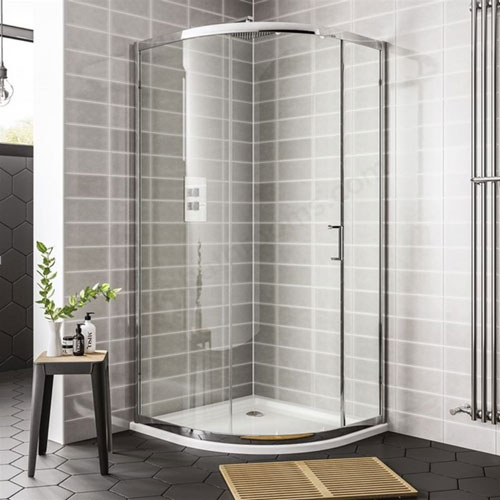 ---
Prepare for bathroom lighting
Lighting is often thought of as a necessity but consider it more than that. In fact, consider it as something you can incorporate into your design.
Plan out bathroom lighting with separate circuits
One way you can play with lighting design is by putting it in layers. Creating different patches of light for a more relaxed and welcoming bathroom space. If you do decide to move forward with this style of lighting, you will need to make sure that the planning is done at the start of the project during the prep stages. This is vital as you may need to consider rewiring in different areas of the bathroom.
Two light circuits are a recommendation. One for downlights and another for lighting with more daring designs. This includes recess lights, lights under the basin, wall lights and marker lights (lights fitted on the floor; used to light up the bath).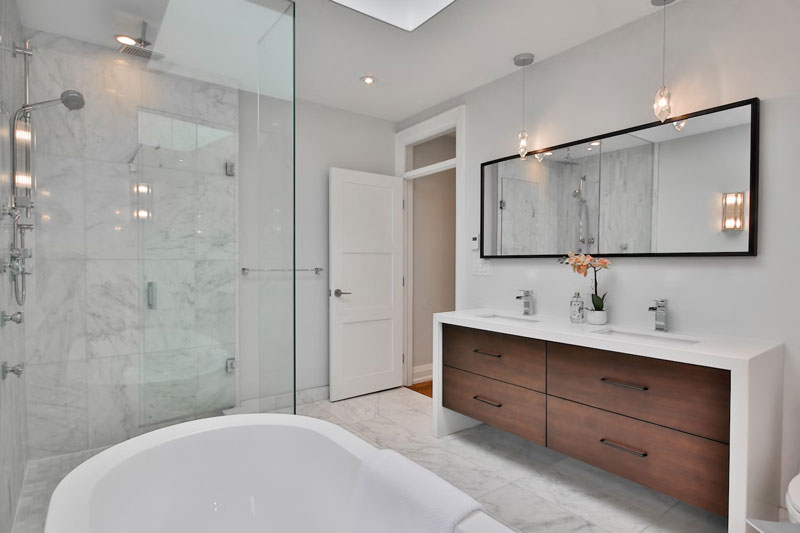 Fit multiple bathroom lights
You might be darting towards the first and most common lighting choice – ceiling lights! However, there is much more you can do when playing around with lighting design. Such as bathroom LED strip lights. These little beauties can sit alongside decorative lighting for practical lighting solutions. Avoiding that traditional design that comes with most bathroom spaces.
If you pride yourself on your makeup or grooming routines, don't place the light above you. Instead, fit it above the walkway. This will provide you with a less harsh light, while still allowing you to be lit up from behind when looking into the mirror. Wall lights are also an option, but make sure these are symmetrical and placed on each side of the mirror or you'll end up with unbalanced lighting.
Another solution is task lighting. This lighting is typically used to illuminate spaces designed for specific activities. Around a mirror is recommended for this type of lighting placement. However, make sure the lights you choose do not cause shadows. Pick lights that sit over the mirror or opt for wall lights that sit on the sides of the mirror.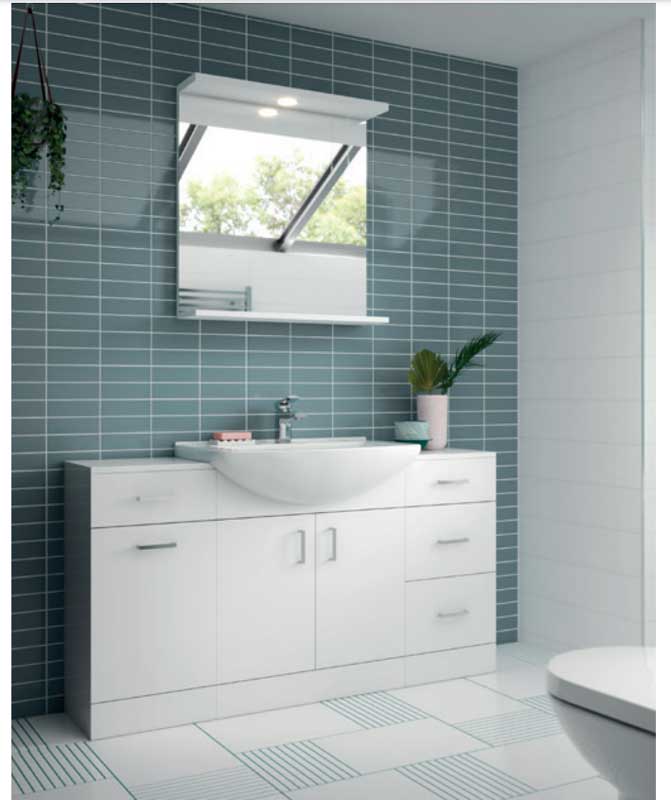 ---
Observe the IP rating chart to ensure you choose the right IP rating for your bathroom
When lighting is fitted inside certain zones, you will need to make sure that you adhere to the zone requirements with IP ratings. The IP rating chart below shows the minimum ratings required for such spaces.
| | | |
| --- | --- | --- |
| Zone | Location | Minimum rating |
| 0 | Inside the shower or bath. | IP67 (completely immersion proof) with low voltage required. |
| 1 | Directly above the bath or shower. | IP65 means light fittings must be dust-tight, protected from low-pressure jets and no water should seep into the fitting. |
| 2 | Either side of the shower, bath or a radius of 60cm from the sink. | IP44 means light fittings must be protected from splashes of water. |
---
Measure to find the right bath size
Even if you have your dream bath in mind, think about how much room you can afford to use for this fitting. As always, plan carefully and you can still have an amazing bathroom design. Freestanding baths are a favourite amongst property owners. However, they won't always fit in smaller bathrooms and are not always worth the large size in bigger bathrooms if you have other design ideas in mind.
Instead, choose to have a smaller freestanding bath that matches the size of a standard bath. This measurement can be anywhere from 1500mm to 1800mm in length. So, if you do have the space available, the centre of the room is ideal as your bath can become a focal point of the room. For bathrooms with limited space where a freestanding bath is not an option and could potentially block points of access, a short roll-top bath, slipper bath or back-to-the-wall bath is advisable.
Want to make sure your bath will fit into your washroom? You can check out our how to measure bath size guide.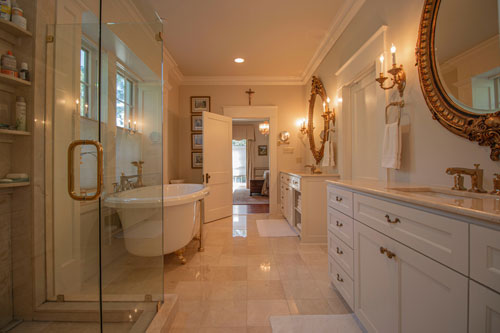 Choose the right bath weight
If you're aware of fiction where the bath falls through the ceiling, this isn't far from being possible. That's why the weight of the bath and how heavy it will be when filled with water are vital to consider. If you are unsure about how strong your home's structure or flooring is, speak to a building or structural engineer before installing your bath.
Alongside the size and the weight, you will also need to ensure you can bring the bath into the home. If the bath is too large, this can make for a difficult or even impossible task when approaching doorways and corners. In some cases, people have had to remove windows from their property and lift the bath through the open space using a crane just to get it to the home. So, opting for a suitably sized bath is recommended.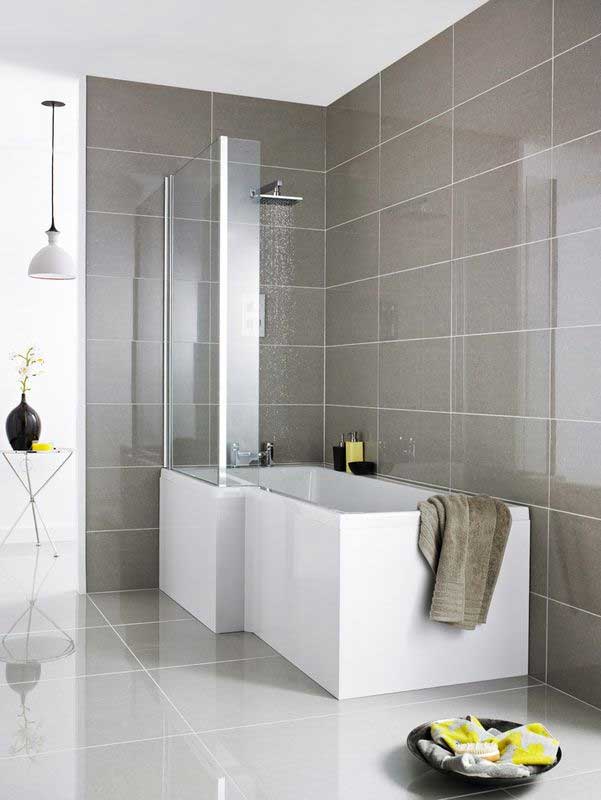 ---
Moving forward with your bathroom fitting
You've checked, double-checked and triple-checked your planning for your bathroom. Now you're ready to move on to fitting your new bathroom pieces! One last thing to remember is…
Install your bathroom furniture in a specific order
Installing your furniture in a certain way is vital because you might find the placement of one piece will disrupt another as you bring your new bathroom design to life.
Check all pipework is in place and that wall coverings require minimal adjustment.
Consider the size of the wall coverings and check supports are in their correct position.
Install the underfloor heating in a way that won't let it be damaged during its fitting process.
Select furniture that requires two-part installation (e.g. a waste fitted before the bath)
Chosen a freestanding bath? Fit this last to prevent the risk of damage.

Was this guide useful?
Let us know if you liked the post. That's the only way we can improve.
Thanks for rating this article.
Mentioned in this project guide: