Radiators are commonplace in almost all properties, so it's only right you find the most appropriate system for your home. Whether you're choosing a new radiator for design or practicality, there's plenty you must consider before purchasing. This goes beyond the size and style. Do you know what a BTU rating is? Well, you're in luck, because we can help you understand why this matters and more via the information below.
---
Table of contents
---
What radiator do I need?
This refers to the method of how it will be heated. There are three main options.
Central heating radiators
Electric radiators
Dual fuel radiators
Your central heating radiator is your standard radiator. I.e., a metal container containing hot water heated by the boiler. The heat then escapes into the home. The rate at which this heat escapes will depend on the size, material and design, which you can discover more about via this article.
A modern heating alternative is an electric radiator. This also contains liquid (typically thermo fluid) but is heated by an electrical element instead of the boiler. Power will likely be provided by the power socket closest to the system or via wiring into the main power supply.
The third option is a dual-fuel radiator. This is like a central heating radiator, except it includes a mains-powered 'summer heating element' within. This combines the option of heating with central heating and electricity, meaning the heating can work even if the central heating is off. This is preferable if you have towel radiators.
---
What is a radiator made of?
Radiator materials are an important consideration when finalising your purchase. The material you choose will determine the speed at which it heats up and how quickly it will cool.
Aluminium is typically considered the "best" material for radiators but is less cost-effective than other materials on initial purchase. Having said that, you can make that money back long-term because you will minimise your heating costs.
Now, if you want to save money short term, opting for a different material may be your best bet. Here's a breakdown of the different materials used in radiators.
Radiator material
Pros
Cons
Aluminium
•A superconductor (I.e. will immediately start to heat the home when the radiator is turned on).
•Cools immediately to achieve the perfect temperature.
•Lightweight.
•Easy to install (lower installation costs).
•Will save you money long term.
•Less cost effective on initial purchase.
Cast iron
•Victorian aesthetic appeal.
•Suitable for traditional or modern homes.
•Can take longer to heat up and cool down.
Mild steel
•Commonly used material.
• Cost-effective on initial purchase.
•Variety of colours to choose from.
•Many different designs are available.
•Prone to rusting from the inside.
Stainless steel
•Good-looking design.
•Great for bathrooms or minimalist interior design.
•Can be used for vertical, horizontal, small, compact or low-level radiators.
•Does not rust.
•Stays warm for longer after heating has been turned off.
•Quality of the stainless steel will depend on the manufacturer.
---
What size radiator do I need?
You'll be pleased to know that there are different sizes of radiators. This is to ensure you can have the heating you need for your property. So, where do you start? To help, here's a breakdown of the types of radiators you can choose from.
Single panel radiators
This is your standard radiator. It's slim fit, mounted closer to the wall than doubles, facing outwards into the roof. To cover for surface area, this radiator can be split into multiple columns but does not lose its title of single panel radiator.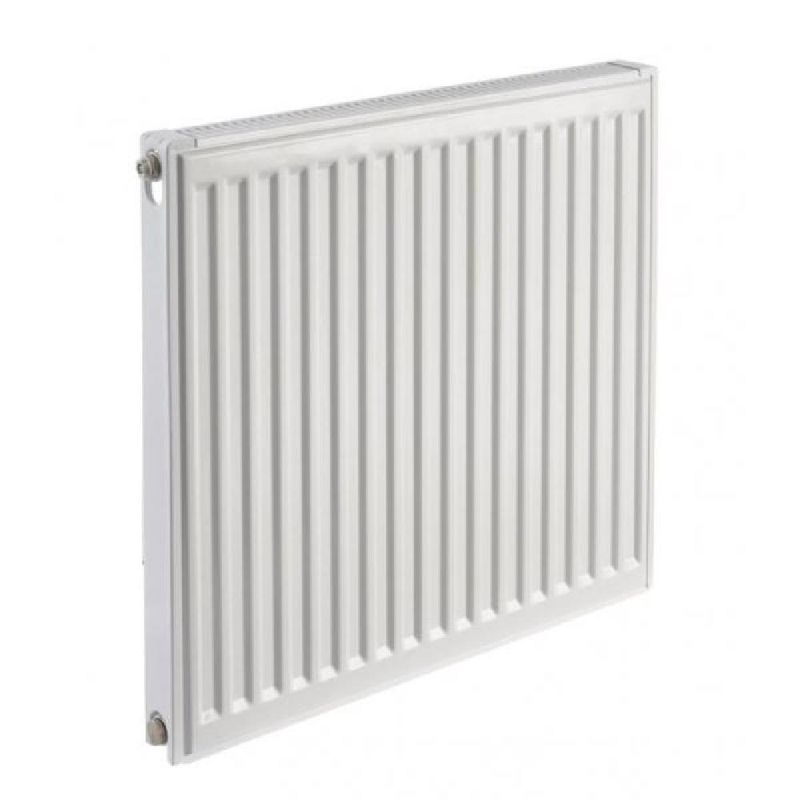 Double panel radiators
What do you get when you stack two single panel radiators together? The double panel radiator. This type of radiator is designed to have double the power and is, again, mounted to the wall. However, this type of radiator sticks out further than a single panel. If you're not trying to minimise space usage, this can be a great focal feature for your room.
Horizontal radiators
A horizontal radiator has a height shorter than its width. Quite common and typically found beneath windows. This is because they help warm up the area with a draft. They're also a safe option for design, especially when most are a white colour, which can mix with various interior designs. As for cost, these are one of the friendliest choices for your wallet. Worth it if you're looking to save on your initial purchase.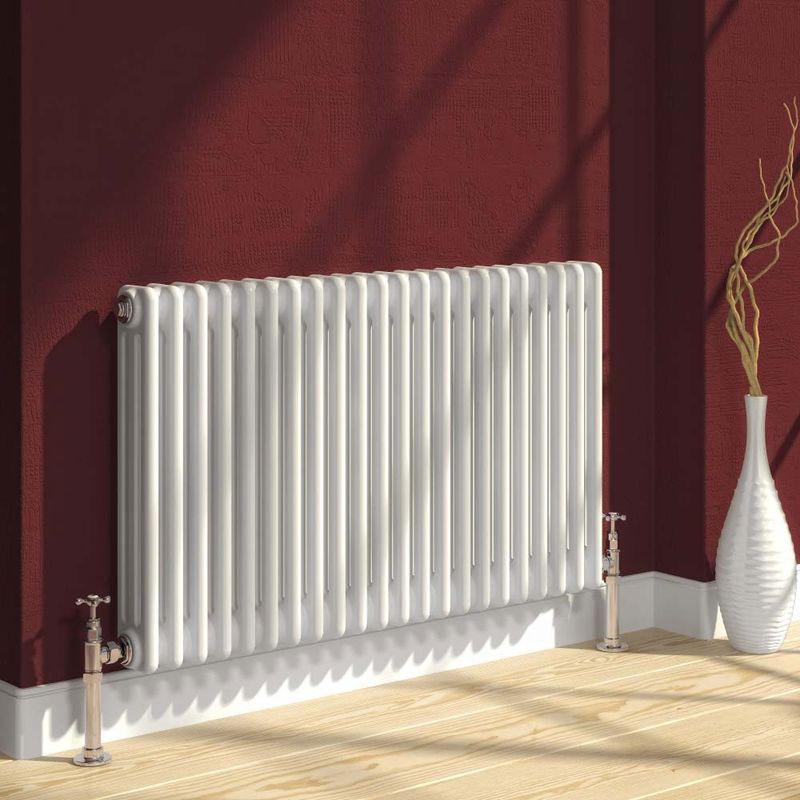 Vertical radiators
A vertical radiator is a tall heating feature with less width than a standard radiator. They're great for space-saving and beautifully decorative but are less discrete. Again, if you're not trying to minimise space usage like that of a double panel radiator then this is the system for you.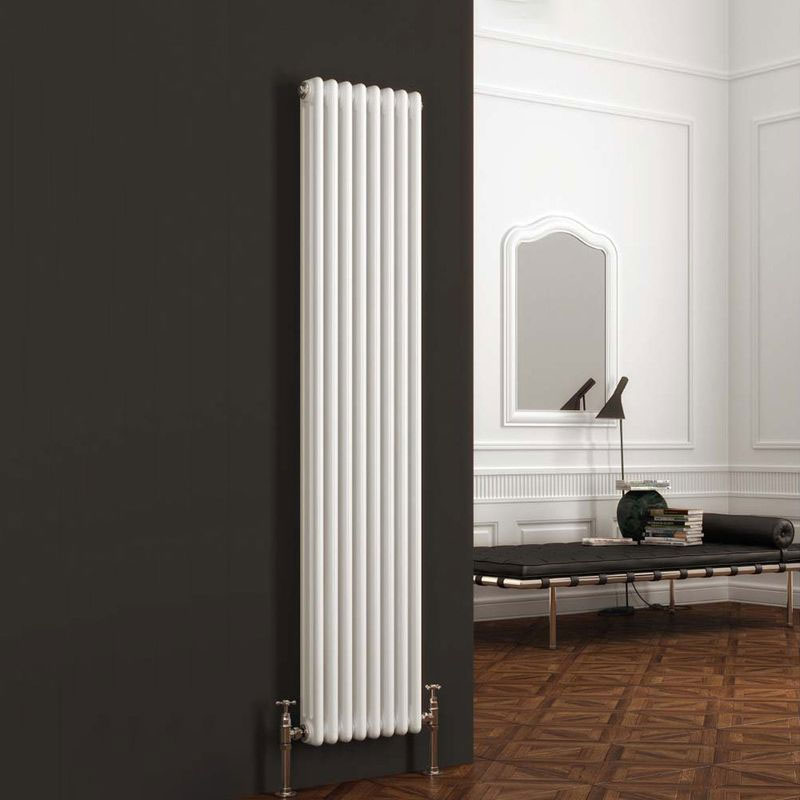 Column radiators
A column radiator is made from tubes, arranged in rows and connected at the top and the bottom. It forms a single section, providing a more traditional design that likely imitates the Victorian aesthetic.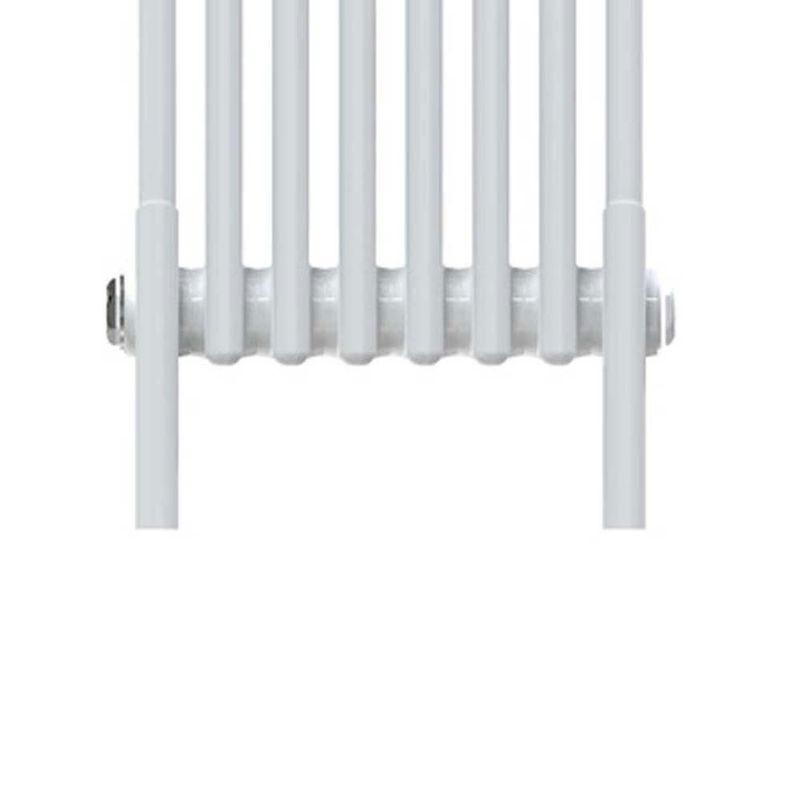 Heated towel rails
Beautifully situated in many bathrooms, a heated towel rail (also known as ladder radiators) is most suited for heating towels – the clue is in the name! Great for warming towels up on cold mornings like in the winter or drying them, thanks to slots being cut into the radiators for the towels to hang. Unlike normal radiators, heating the room is not the primary function, but they can heat smaller bathrooms quite well. Additionally, despite having less power, this means they can be cheaper to use.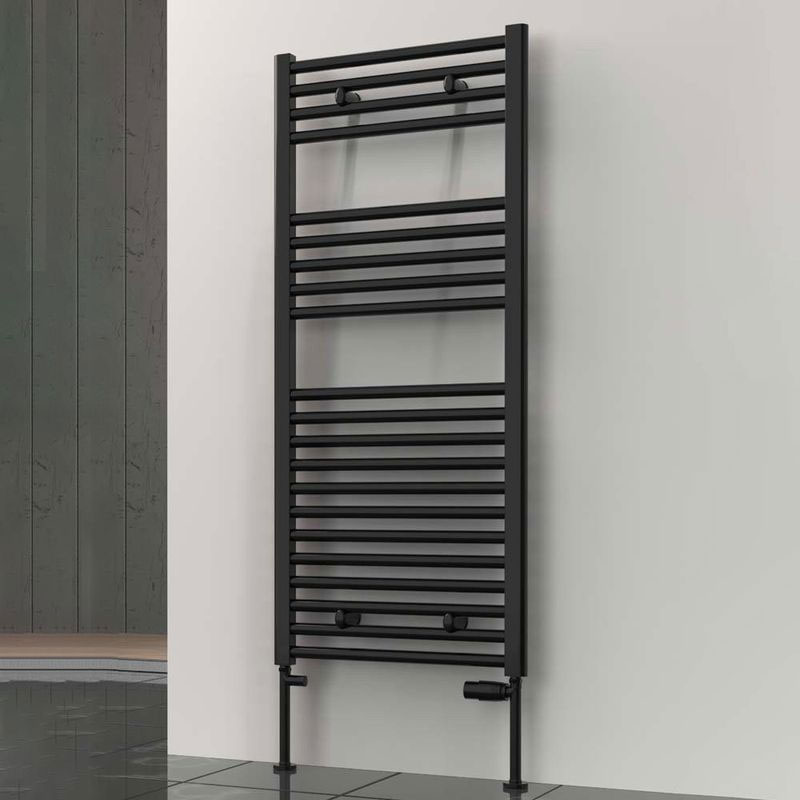 ---
What else do I need to consider?
You've chosen your radiator, so what else is there? What is the best radiator? Slow down there because you've got to consider a few more things first. Such as cost, what valves you need, how you're going to install it (or who you want to install it for you) and BTU rating.
How much for a radiator?
First things first, cost! It's all well and good choosing a radiator, but what is your budget? Once you've identified that and taken note of the material costs, you can explore your options further. We have beautiful options at Plumbing Superstore to suit many different budget requirements. Look around and see what you can find!
What radiator valves do I need?
Most radiators will require two valves. You can normally find them being sold in pairs, meaning every new radiator will need a new set of valves bought separately. They are rarely provided with a radiator, but this gives you the freedom to choose the style and features that you want to customise your heating system. At our Superstore, we even have some smart valves to make your heating control easier. Check them out!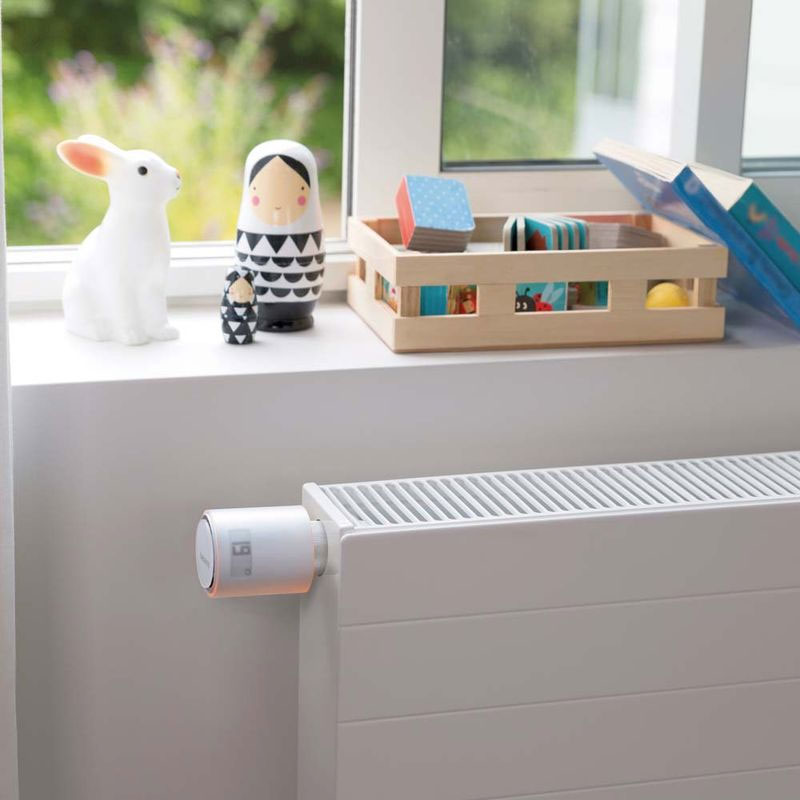 Can I install a new radiator?
Ideally, look to a professional when you need a radiator installed. It will be filled with hot water when people are nearby the system. Even the simplest mistake can cause major damage to the home. What if you're having a celebration during colder months and the heating breaks down? Talk about being as cold as ice!
Having said that, if you're an experienced DIYer, ensure you have a full plan in place. Check instructions, look for professional advice and ensure you're completely confident in your skills. If not, there's no shame in contacting a professional!
---
What is a BTU rating?
The BTU (British Thermal Unit) rating is the heat output measurement. The higher the BTU rating, the hotter your radiator can be. It's important to use a BTU calculator to identify what rating you need. High BTU ratings will be more costly to run but can always be turned down.
What BTU rating do I need?
To know what BTU rating you need, you must make calculations to avoid choosing too low a figure. Contacting a plumber is advised if you're unsure or need a second opinion, but if calculating yourself, then you will need the following measurements.
Using a tape measure or laser measurement tool, measure the length, width and height of the room that your radiator is being installed. If the room is oddly shaped, separate this layout into rectangles and measure them separately before adding each total together.
Length x Width x Height = cubic volume of the room space
The cubic volume of the room space x 4 = BTU total
It's also worth noting that combining radiators to reach the required BTU level is possible. If you've ever noticed more than one radiator in a room, it is likely for this reason.
Again, contact a professional if you are uncertain as they will take into account additonal factors and perform more thorough calculations. Other factors that can affect the BTU rating are as follows:
Windows (single or double glazed).
What is above and below the room.
How many outside walls it has.
The type of outside walls.
The type of room you're heating.
---
What are the different types of radiator accessories?
Accessories can help your radiator look good and perform better. Here's a breakdown of accessories that will make your radiator stand out as a focal point of the room.
Don't be scared to paint your radiator
Painting your radiator is a great way to make it look as good as new. Whether you want a quick change or enjoy painting, the paint is available as a spray or in a tub. Mix or match your colours to ensure that you have the ideal look for your room.
Bored of traditional valves? Make them pretty!
These are non-essential if you do already have valves. However, many different valves aren't your standard type with a plastic top. Such as the chrome-finished radiator valve, which offers a chic design to your room.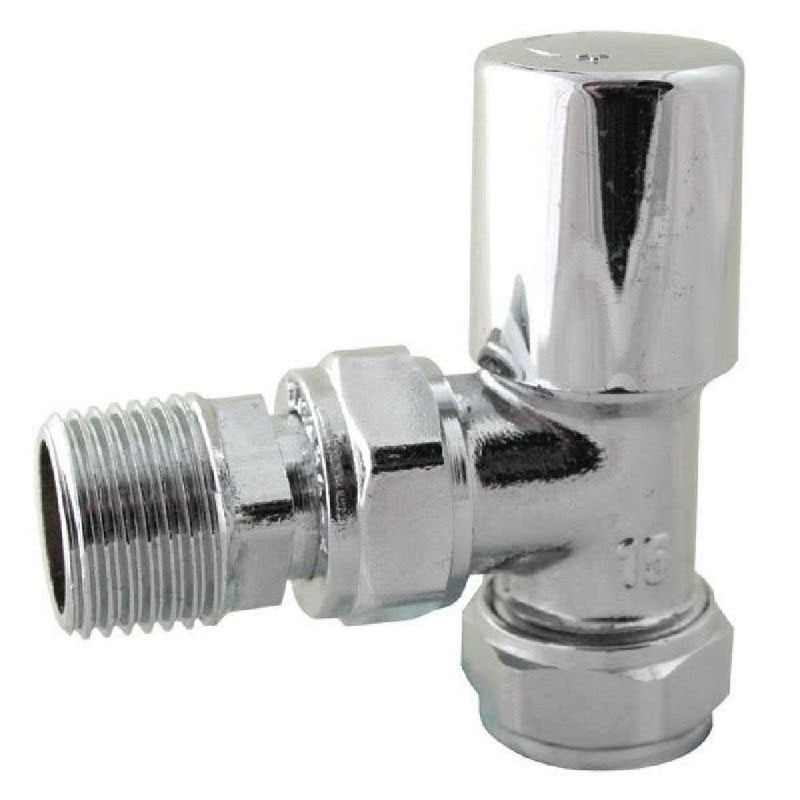 Boost the radiator's efficiency!
Radiator boosters are fans that sit on top of radiators. When the radiator works, the fan will blow hot air into the room. This is used to add to the efficiency of your radiator, which in turn helps with savings on heat. However, this will depend on the type of booster you buy and the supplier as some are less effective than others.
Prepare for rust! Consider a central heating inhibitor
This is seen as a key item for your radiator, coating the metal surface to prevent the metal inside the system from rusting or reacting with external factors.
Want to know more about heating and ventilation? We've got plenty of help and advice guides to help you out!

Was this guide useful?
Let us know if you liked the post. That's the only way we can improve.
Thanks for rating this article.
Mentioned in this project guide: