A countertop basin is a great way to spruce up your bathroom and add a touch of style. With various styles, shapes and sizes available, the sky's the limit.
But don't just leave things there! Take your bathroom remodelling project to the next level with a bespoke countertop that complements your basin.
Perhaps you're wondering 'How do you style a bathroom countertop?'
The good news is:
It's never been easier!
And to demonstrate this point, at Plumbing Superstore, we took a deep dive into the latest on-trend countertop basin ideas to find something for everyone.
Here's what we're going to cover.
---
Table of contents:
---
1. Upcycled cabinet or table countertop
DIY worktop ideas are all the rage these days. And if you too love DIY and have a creative personality, you can use an upcycled furniture item to create the ultimate personalised countertop.
Here's the deal:
As long as they're still structurally sound, old bedside cabinets, kitchen dressers and occasional tables all make unique, eye-catchy bathroom countertops.
All of these are quite sturdy and readily available on auction sites and second-hand furniture shops. The height you're looking for is about 70-80cm.
Extra bonus:
If you're going for a kitchen dresser or bedroom cabinet with drawers, you can use the top one to conceal the plumbing and keep the rest as handy bathroom storage. The same goes for an upcycled vanity unit.
---
2. Vintage wood bathroom countertop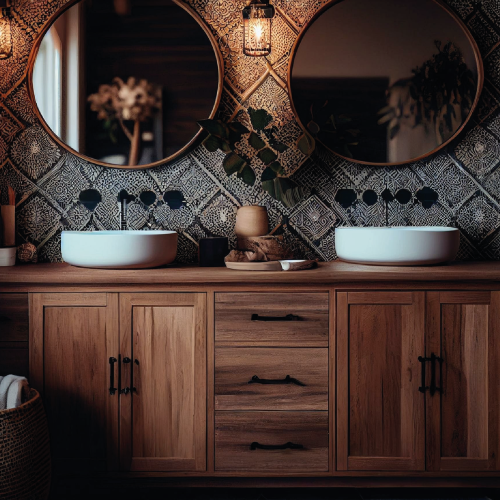 If you're a fan of vintage furniture and antique cabinets, this one's for you! Granted, finding the right vintage wood cabinet can be a tricky process that might require an Antiques Roadshow-style trip up and down the country.
But trust us – it's well worth it!
Vintage wood countertops create a stunning effect, making them an ideal companion to period bathrooms in particular. They're likely to require some painting, finishing and – depending on their condition – repair work.
However, that's nothing compared to the satisfaction and pleasure they're going to bring to your overall bathroom experience.
---
3. Sewing machine stand countertop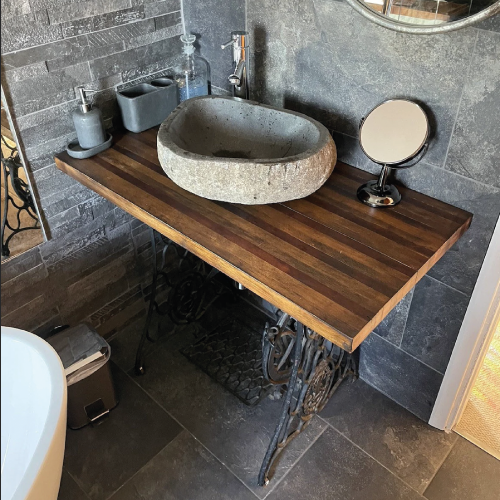 This is another one of those creative bathroom worktop ideas that DIYers tend to love. And yes, it also involves a vintage item – but this time, it's a sewing machine! Or rather, the sewing machine stand.
The thing is:
Vintage sewing machines, like the classic Singers from the 1920s and 1930s, come with a solid stand which weighs a tonne and is built to last for ages.
So, if you (or, more likely, your grandmother) happen to have one of those Singers lying around the attic gathering dust, you can transform its stand into an unusual bathroom sink component that is bound to catch your guests' attention. And the sewing machine itself makes a great decorative item for your living room.
You can also buy second-hand classic sewing machines online.
---
4. Luxurious marble bathroom countertop
Nothing says luxury like marble.
The problem is:
Marble bathroom furniture also costs a fortune. Luckily, a marble countertop doesn't have to be massive, meaning it won't break the bank. And just like a fine wine and your favourite stand-up comedian, a marble countertop only gets better with age.
In terms of colour, there are plenty of options for you to work with. When it comes to marble bathroom basin ideas, black, honed green and grey are the colours in vogue.
Here's why:
As timeless and elegant as a James Bond tuxedo, a black marble countertop oozes class when combined with a white vanity unit.
Perhaps you prefer an old-world look. In that case, opt for honed green marble. A countertop in this shade of green will shine when paired with antique bathroom furniture.
Can't decide? No worries! You can't go wrong with a grey marble countertop, as it's guaranteed to subtly complement pretty much any colour scheme without stealing the show.
---
5. Granite bathroom counter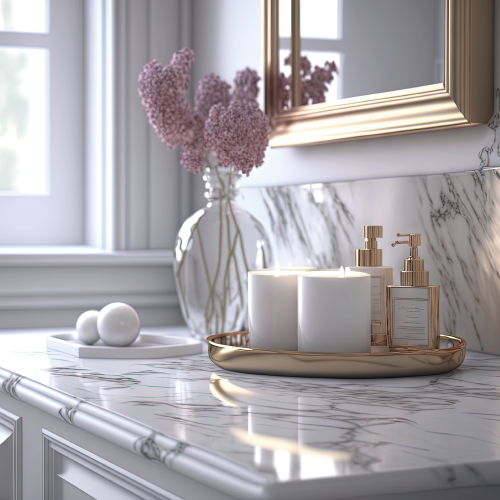 One of the most popular countertop basin ideas out there, granite countertops are affordable and resistant to stains, chips and scratches, making them an ideal choice for busy bathrooms.
What's more:
Just like the more luxurious marble ones, they come in a variety of colours, allowing you to choose the right one to match your bathroom décor.
Here are a couple of examples:
A brown granite countertop will match a rich, wooden floor and vintage bathroom storage items perfectly.
On the other hand, a white granite countertop will bring plenty of light and airiness to your bathroom, offsetting the heaviness of darker cabinets.
---
6. Concrete countertop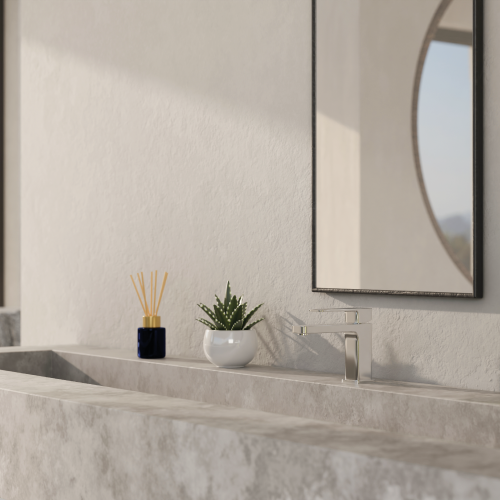 Going concrete is one of the hottest countertop ideas and trends right now. That's because natural concrete brings a slightly imperfect, stained, floating countertop bathroom quality to the picture. And this works marvellously alongside sleek furnishings and bathroom storage units.
But that's not all:
Concrete is also an endlessly versatile option. For instance, you can dye your concrete countertop black for a contemporary bathroom look.
Whatever your preferences, concrete countertops have a lot going for them.
---
7. Limestone countertop
If you like the idea of a marble countertop but can't afford the price, then you should consider a limestone countertop.
Because limestone bears a close resemblance to marble but costs less, it's become an increasingly popular choice with homeowners in recent years. In addition, limestone countertops are available in multiple styles and colour patterns, so you should have no trouble finding the right fit for your bathroom.
Keep in mind that even though it's quite sturdy, limestone is softer than marble or granite and might scratch or suffer discolouration in busy bathrooms. So, it's a good idea to have your limestone countertop sealed for extra protection and durability.
---
8. Tile countertop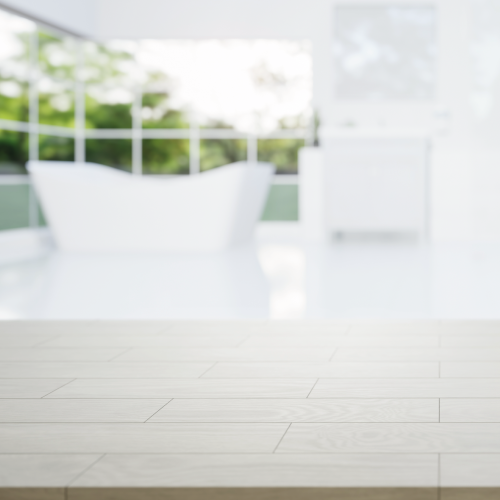 A tiled countertop is a simple, practical and cost-effective yet elegant and long-lasting solution, making it one of the evergreen bathroom worktop ideas on our list.
And here, the possibilities are endless:
For instance, you can go with the contemporary classic that is Subway tiles for a matching wall and countertop look.
Alternatively, why not create a seamless look from the floor up by using matching floor tiles to cover the countertop and even the wall?
In any event, you'll have a bathroom that's easy to clean, water-tight and long-lasting.
Pro tip: Mix and match different tile patterns and colours to create your own unique bathroom look.
---
9. Toilet cistern countertop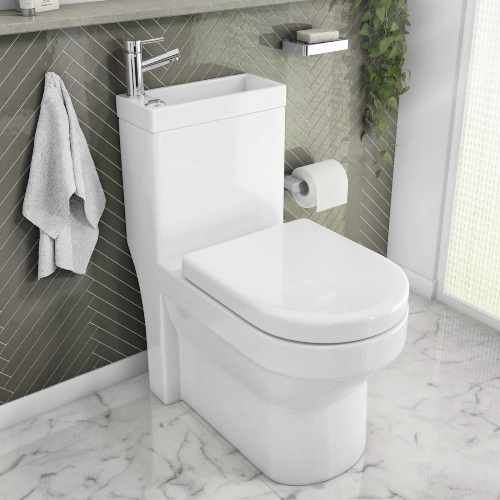 Having a toilet cistern that also serves as a bathroom countertop might sound more than a little unorthodox and perhaps not nearly as aesthetically pleasing as some of our other countertop basin ideas.
But please – bear with us.
If you have a smaller bathroom or cloakroom where space is at a premium, you need to think creatively.
The thing is:
By placing a small countertop bathroom sink on top of your toilet cistern and connecting the two, you'll be able to save space as well as water. The water from the sink will go into the cistern, and you'll be able to reuse it later.
See? It makes perfect sense in certain settings.
Check our handy guide on Using hand wash basins in limited spaces for more helpful tips like this one.
---
10. Repurposed kitchen worktop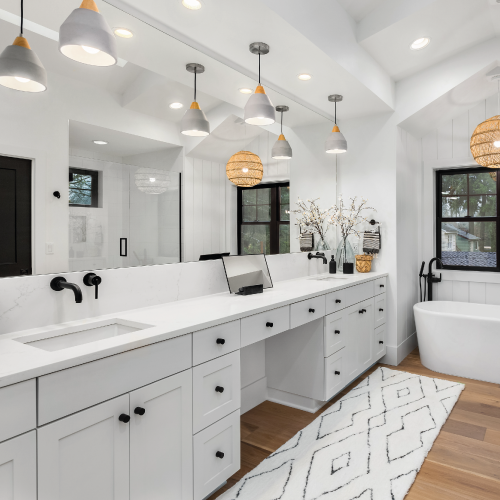 This is one of the most budget-friendly bathroom worktop ideas you're likely to come across.
Here's the deal:
Many of the materials used in the manufacture of bathroom countertops are also used to make kitchen worktops. So, if you happen to have a kitchen worktop you're no longer using, you can easily repurpose it to function as a bathroom one.
Whether it's made from marble, limestone or any other suitable materials, your kitchen worktop requires only a few relatively minor tweaks to become a repurposed kitchen countertop sink.
You can place it on top of a repurposed kitchen cabinet for a matching look.
---
Final thoughts
And there you have it:
10 innovative countertop basin ideas that will help you transform your bathroom into an inspired space.
As you've probably realised by this point, you can combine some of these ideas to create your perfect blend of style and functionality.
In fact, that's exactly what we would encourage you to do:
For the ultimate bespoke bathroom of your dreams, let your imagination run wild and make the most of our bathroom furniture ideas.
Best of luck, and we'll catch you on the next one.

Was this guide useful?
Let us know if you liked the post. That's the only way we can improve.
Thanks for rating this article.
Mentioned in this project guide: