Is it better to have a bathtub or shower?
That's one of the eternal bathroom dilemmas facing homeowners.
And whether you're buying a new house or planning a big bathroom remodelling project, you're going to have to confront it yourself at some point.
The thing is:
You should not make this fateful decision on a whim.
That's why at Plumbing Superstore we decided to look into the essential considerations you need to take into account so you can make an informed decision on whether you should go for a shower or bathtub or both.
Let's dive right in.
---
Table of contents:
---
1. How big is my bathroom?
The first thing you need to consider in the bath vs shower debate is the size of your bathroom. Once you've measured everything carefully, you might realise that fitting a bath and shower in a small bathroom is simply not an option for you.
Keep in mind that the standard bathtub is 1700mm long and 700mm wide, while shower enclosures take up far less space. The bathroom layout also plays a key role here, as safety regulations specify that you need to keep electrical fittings at a sufficient distance from water fittings.
What's more:
You don't want a cramped bathroom with a bathtub and shower that will leave little to no room for storage. That being said, you do have options. For instance, a small bathtub shower combo will allow you to have both a bathtub and shower in your small bathroom.
But if you can't find a suitable option, the shower enclosure is the clear winner.
---
2. What is my budget?
Even if your bathroom is large enough to accommodate a shower enclosure and a bathtub, there's the question of money.
Ask yourself:
Can I realistically afford both without breaking the bank?
Check this out:
A smaller, budget bathtub will only cost around £150, while a luxurious, higher-end item might set you back by as much as £1000. In terms of installation, the average cost to fit a bathtub in the UK is £300.
When it comes to the price of a shower, this ranges from around £50 for a budget product to over £300 for a higher- product. Then, there's the glass enclosure, which typically costs between £130 and £500. The average installation cost of a walk-in shower is £113.
So, all things being equal, a walk-in shower is cheaper than a bathtub. But is it more convenient for the users?
That's what we're going to look at next.
---
3. Who's using the bathroom?
Let's face it:
We all want the most comfortable and convenient bathroom experience. However, the meaning of this can differ dramatically from person to person and from age group to age group.
Here's the scoop:
Because they can be tricky to get in and out of and quite slippery, bathtubs are a potential safety hazard for older people and those with mobility difficulties who might slip and fall. In this case, it's a good idea to replace a bath with a shower just to be on the safe side. Adding a bench inside the shower enclosure is also a good idea.
On the other hand, if you have small children, you're better off going with a bath. This way, you'll find it much easier to bathe them. In addition, they're guaranteed to look forward to bath time, as they get to play with their rubber duckies and fool around.
Then, there's your own lifestyle:
If your life is dynamic and fast-paced, you're naturally going to favour taking showers because they're considerably quicker.
In contrast, if you take a more leisurely approach to things, you're likely going to enjoy long, relaxing, decadent baths.
Finally, if you really can't make up your mind or would rather have the best of both worlds, you can take the middle road and purchase one of the many excellent bath-shower combinations available on the market.
---
4. Does a bath or shower use more water?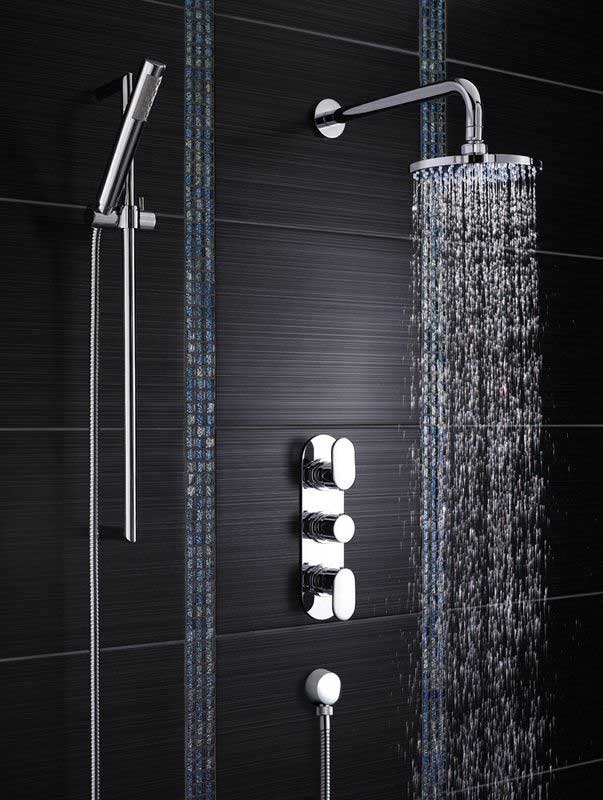 Given the skyrocketing energy costs and the overwhelming pressure to reduce water and energy bills, shower vs bath water usage plays an important role in deciding whether to go for a walk-in shower or a bathtub.
So, how do they compare?
Check this out:
On average, if you don't count certain power models, showers use significantly less water than baths. A typical bathtub uses 80 litres of hot water, compared to 62 litres of hot water for an eight-minute shower.
That may not sound like too big of a difference. But if you're disciplined enough to take super-quick four-minute showers, you'll be using only slightly more than one-third the amount of water of the average bath (31 litres vs 80 litres).
This is huge! It will translate into significant savings over time.
---
5. Is it better to have a tub or shower for resale value?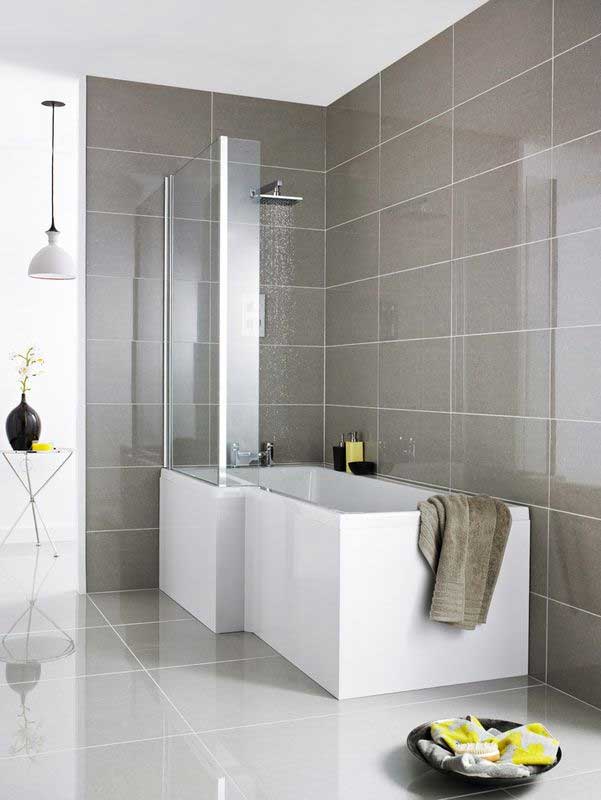 If you're thinking about selling your house at some point in the future and moving on, you want to make sure it has the best resale value. And here, the bathroom plays a massive role.
The thing is:
Most estate agents will tell you to keep your bathtub (or a bathtub, if you have more than one) when remodelling. This way, your house will appeal to a diverse range of prospective buyers, which means you might be able to get a higher price for it.
However, it's not that simple. Surveys from the United States suggest that the ROI is more or less the same (70.6% for a walk-in shower remodel vs 70.1% for a porcelain tub remodel).
And while the UK market is obviously different, a 2014 YouGov survey suggests 47% of Britons would prefer 'a bath that you can shower in', compared to 43% who would opt for 'a big walk-in shower with no bath'.
At the same time, according to a 2017 survey, only 4% of Britons take a bath on a regular basis, compared to 76% who stated they prefer a quick shower.
So, if you were wondering 'What is more popular – bath or shower?', you now have your answer.
Having said that, we should point out that the profile of any prospective buyer and the area are going to play a big role here.
The key takeaway is:
There's no definitive proof of any significant difference between a bath and a shower when it comes to resale value. If you want to hedge your bets and you're not on a tight budget, adding a shower to a bathtub might be the optimal solution.
---
Baths vs showers: pros and cons
Walk-in showers and baths have their distinct advantages and, to a lesser extent, disadvantages.
A bathtub is great for:
✅ Soaking and relaxing sore muscles
✅ Bathing small children
✅ Eye-catchy bathroom décor
✅ Wide range of shapes and sizes
In contrast, it's not so great for:
❌ Elderly people and those with disabilities
❌ Small bathrooms
❌ Water usage
When it comes to walk-in showers, they're ideal for:
✅ Smaller bathrooms where space is limited
✅ Optimal water usage
✅ Older people who have difficulty moving
✅ People with a fast-paced lifestyle
On the other hand, they're somewhat less than ideal for:
❌ Bathing small children
❌ Prospective buyers who might prefer a full bathroom
❌ Cleaning and maintenance of the glass doors
And there you have it – the bath vs shower debate in a nutshell. You now know everything you need to consider before you make the right decision.
So, will you be going for a shower or bathtub or tub shower?

Was this guide useful?
Let us know if you liked the post. That's the only way we can improve.
Thanks for rating this article.
Mentioned in this project guide: