Water pipe insulation is essential for maintaining the temperature of your water pipes in hot and cold weather. This is because there is a chance that they can freeze in cold winter temperatures. What often follows, as a result, is cracks, splitting or even bursting of the water pipes. That's why you need to have suitable water pipe insulation to improve the lifespan of your pipe system.
We have lots of information and handy pointers for you below that will help you to discover the best way to insulate your water pipe, giving you the optimum protection from the elements, general wear and tear and plenty more.
---
Table of contents
---
Why should you insulate hot water pipes?
Even with the hot water flowing through them, hot water pipes can freeze in colder temperatures. So, splitting or even bursting of the water pipes can occur and increase the possibility of flooding on the property.
As such, you need to have efficient insulation that can maintain the temperature of your water pipes and potentially reduce the overall costs of your water-heating bills.
Particular areas that might not have the pipes insulated include:
External walls
Garages (without insulation)
Floor cavities above crawl spaces without heating
Attics
Unheated basements
Unheated storage locations
Essentially, any areas without heating will require the pipes to be insulated. Interior walls are an exception as typically pipes running through these have heating. Though if unsure, check with a professional.
It's also worth insulating hot water pipes at access points if you're eager to reduce those water-heating costs.
---
Why should you insulate cold water pipes?
An alternative issue also includes sweating pipes from the humidity when temperatures rise. This is more likely to be an issue with cold water pipes as this warm air can cause condensation. As a result, pools of water can form on the floor and heat up causing humid temperatures to rise and the cycle of condensation continues.
The condensation can also lead to a higher possibility of mould. This poses a risk to the health of the pipe and the surrounding area. It can also be dangerous to the health of persons inhabiting the building.
So, it's always worth insulating your pipes regardless of location.
---
Types of water pipe insulation
There are common water pipe insulations to suit different areas of the property including pipe insulation for cold water and hot water. It's also worth noting that Approved Document L states pipe insulation is to meet specific standards and that if the pipework is "above ground, the performance of the pipe insulation should be at least as high as the insulating performance of pipework in the buried part of the system".
Below are common water pipe insulations that have a vast range of features to suit the system in place and keep it stable for a longer time.
Foam water pipe insulation
Water pipe foam insulation, also known as polyethene foam insulation, is one of, if not the, most popular insulation for pipes. Its design is a closed-cell foam typically manufactured as a hollow foam tube with a slit on one side. This slit allows the installation to be swiftly and simply slid onto the pipework. It's also low cost with great performance qualities.
Water pipe insulation foam is used for many different applications. This includes central heating to help reduce heat loss or loft spaces to prevent freezing pipes in those colder temperatures. It can also be fitted alongside copper or PVC pipes if standards allow it.
Breakdown:
Commonly used pipe insulation
Closed-cell foam
Slit on one side for an easy slide-on application
Low-cost
Can be used for many applications (including use on copper or PVC pipes)
May need securing with adhesive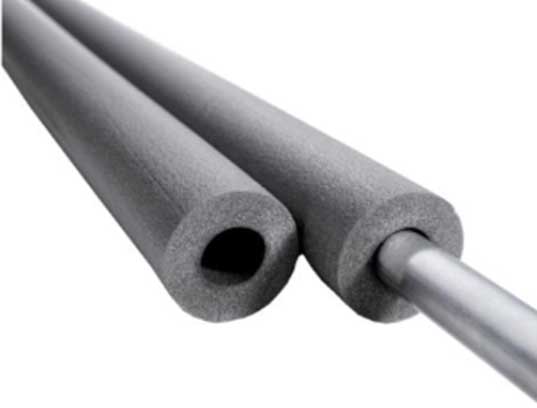 Rubber pipe insulation
Pipe insulation rubber, also known as nitrile pipe insulation or Class O pipe insulation, is another popular closed-cell style of pipe insulation. It's manufactured with elastomeric rubber, offering high resistance to mould and bacteria growth in more humid locations. As a bonus, some manufacturers provide rubber pipe insulation with an extra layer of anti-microbial protection for extra security.
Rubber pipe insulation is more commonly suited to areas prone to condensation or humidity and is manufactured typically with high water resistance. Though its design can complement areas needing thermal insulation, the rate of thermal conductivity is low. That is why it is suited to prevent condensation or humidity rather than encourage warming.
You can also apply your rubber pipe insulation to copper, PVC or iron pipes if standards permit you to do so.
Breakdown:
Closed-cell rubber
High resistance to mould and bacterial growth
Optional anti-microbial layer for extra protection
Typically manufactured with high water resistance
Commonly used in areas prone to condensation or humidity
Can be used on copper, PVC or iron pipes
Low thermal conductivity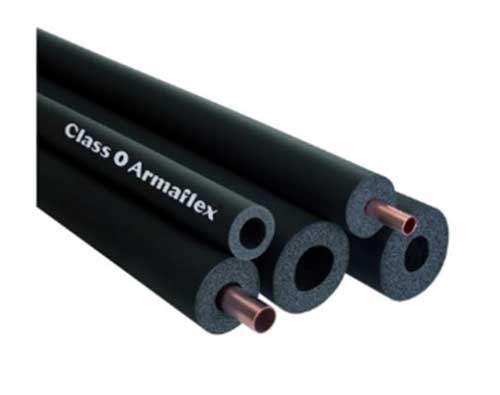 Self-seal pipe insulation
Self-sealing pipe insulation is one of the fastest solutions for insulating a pipe. It can be manufactured from different materials, including nitrile rubber or mineral wool. Regardless of whether you choose something such as rubber or polythene foam, the main benefit of this pipe insulation is the slit with adhesive properties (such as self-adhesive strips). So, you can have a fast, simple application without needing to awkwardly reach any areas with external adhesive.
Breakdown:
Quick insulation solution
Slit on one side for an easy slide-on application
Self-adhesive on the slitted side for quick sealing
Can be made from different materials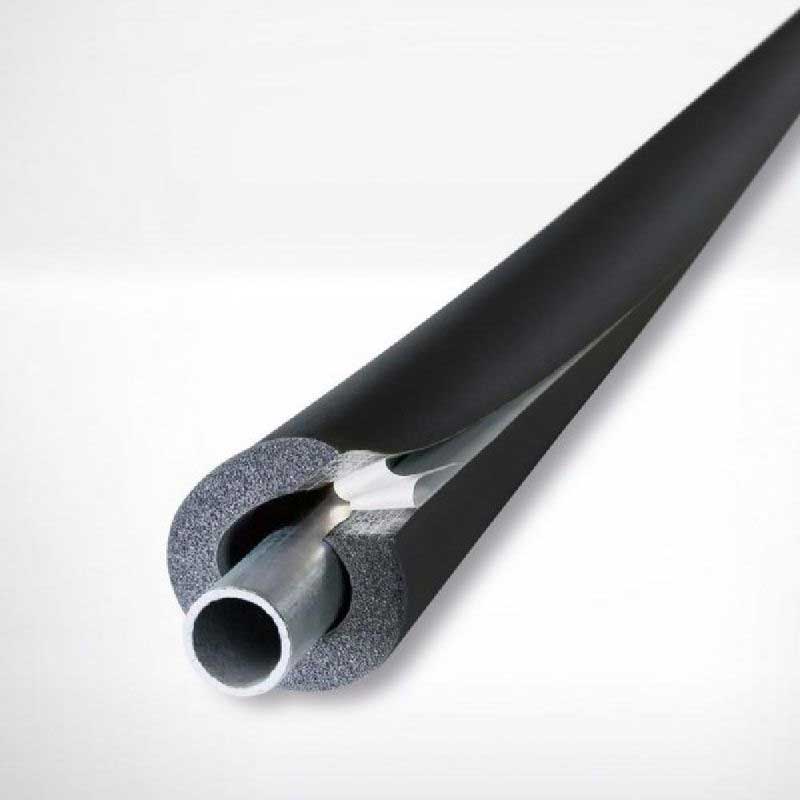 Pipe wrap insulation
Pipe insulation wrap is different to other types of insulation. It comes in a roll form and wraps around the pipe like tape. This form is not solid but has a more flexible design, including a foil-faced bubble membrane. Though the wrap can be made from other materials designed for insulative purposes.
Simple yet effective, this pipe wrap insulation can be used for cold pipes to prevent freezing or hot pipes to keep them heated.
Breakdown:
Tape-style form
Flexible texture
Available in unique designs (e.g. foil-faced bubble membrane)
Can be used for cold or hot pipe applications
May be difficult to apply with pipes close to walls or floors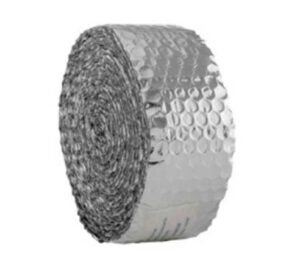 ---
What is the best water pipe insulation?
Many factors go into choosing what the best water pipe insulation is for your project. Including legal options and R-value considerations. However, provided you have made sure to review the legal concerns of pipe insulation and are sure you can go ahead with making a choice, then you've made it to that all-important answer.
Overall, many installers consider foam insulation the winner as it is affordable, easy to use and can be used for hot or cold applications. So, if you're looking for something with those qualities, foam insulation is the way to go.

Was this guide useful?
Let us know if you liked the post. That's the only way we can improve.
Thanks for rating this article.
Mentioned in this project guide: