Are you looking for ways to take your humble bathroom to the next level?
Perhaps all it's missing is that finishing touch that will bring everything together, a certain je ne sais quoi.
Or perhaps your bathroom and bathroom furniture needs a complete makeover.
Either way, if you're in need of a little bathroom inspiration, you've come to the right place because at Plumbing Superstore, we're always here to help. After carefully examining a large number of on-trend bathrooms, we came up with an extended list of ten exciting bathroom furniture ideas.
We promise they're guaranteed to give you plenty of food for thought.
From specific bathroom sink unit ideas to general wood bathroom ideas, there's something for everyone.
Here's what we have in store for you.
---
Table of contents:

1. Don't be afraid of vanity
Cluttering is possibly the biggest issue in most people's bathrooms.
Let's face it:
Nobody's going to notice your nice chrome towel ring or even your elaborate Victorian theme – not even you yourself – if there are shampoo bottles and cleaning supplies all over the place.
So, it's important to start with a few bathroom storage ideas that will help you optimise things.
Luckily, there's no shortage of options here: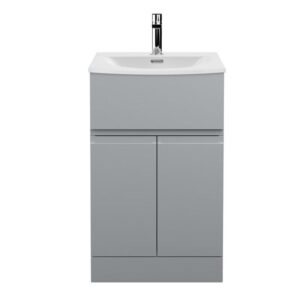 First, you should consider a bathroom vanity unit rather than a standalone basin. Plenty of those come with multiple drawer and door storage combinations, which makes them highly versatile. By combining a basin with ample storage room, vanity units for small bathrooms and large bathrooms alike are a fantastic option.
In fact, the beauty of the bathroom vanity unit is only equalled by its practicality – a match made in heaven, as far as we're concerned.
Second, check out the latest bathroom cabinet designs and install a mirrored bathroom cabinet. Even if you already have a perfectly satisfactory mirror – and we're going to talk about the importance of bathroom mirrors at length in due course – a mirror cabinet will provide extra storage space and improve lighting.
The thing is:
In no way is a mirrored cabinet a useless expression of vanity.
By this point, you've gone a long way toward getting rid of clutter. Our next idea will help you take your bathroom storage optimisation to the next level.
Quite literally.
---
2. Embrace height
A floor-standing tall cabinet is one of the best ways to make the most of a small space, making it one of the most popular small bathroom furniture items. And even if yours is fairly large, there are good reasons you should get one.
To begin with, you're vastly increasing your storage space by simply using a part of your bathroom that would otherwise simply be wasted.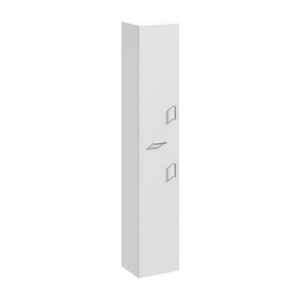 What's more:
A tall cabinet will allow you to keep potentially dangerous items, such as shaving razors or cleaning products, away from children's reach. For these reasons, it's one of the most widely embraced bathroom cabinet ideas.
And it doesn't end there:
A tallboy is a stylish, minimalist addition to your bathroom décor, which will enhance it subtly without drawing too much attention to itself.
All three considerations hold true for a wall-hung cabinet. These are generally wider than the typical tall unit, so they utilise both height and width.
This brings us to the next point, namely…
---
3. Maximise your wall space
One of the most common bathroom furniture design mistakes people make is placing nearly all furniture items on the floor.
This has the effect of making even larger bathrooms look small, cluttered and stifling, while the walls remain bare and unused.
Now:
The aesthetic argument aside (you wouldn't leave your living room wall as bare as that of a prison cell, right?), there's the huge matter of functionality.
Floating bathroom furniture to the rescue!
This has been all the rage in Europe for quite some time now, and the popularity of wall-hung units is now steadily growing in the UK as well.
We've already mentioned wall-hung cabinets, but wall-mounted vanity units and toilets are also widely available, following the latest furniture ideas.
But why bother with those, you might ask?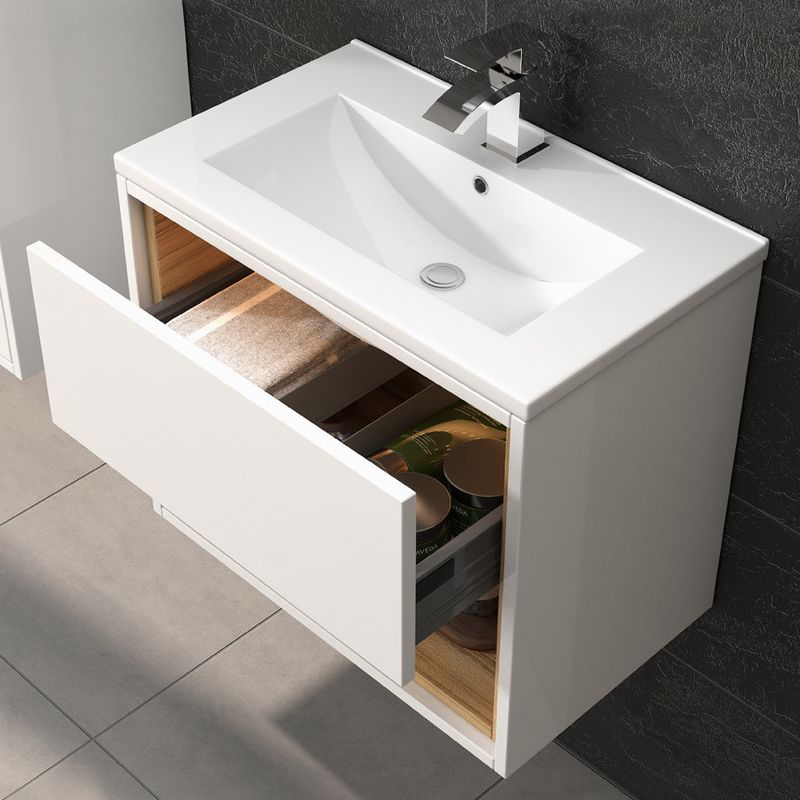 Here's the thing:
Wall-hung units will lift your entire bathroom's ambience by emphasising the vertical lines. They'll free up more of the floor, allowing it to shine in its own right. On a more practical level, they'll make it easier for you to clean the floor.
Next:
---
4. Look in the mirror
No, we're not trying to give you a wake-up call with this one.
Rather, we're trying to emphasise the importance of bathroom mirrors. We've already mentioned the benefits of mirrored cabinets.
But wait! There's more:
A big mirror is essential to your bathroom, whatever its size. You can even go for a full-wall mirror that goes all the way to the ceiling. In fact, the bigger the better.
Why is that?
That's because a big mirror will expand the space and reflect more light to make your bathroom brighter and more elegant.
Let's face it:
Nobody likes a dark bathroom. It's the one place in your home where you need as much light as possible so that you know exactly what you're doing and don't, say, cut yourself while you're shaving.
If you want to jazz it up a bit, you can opt for several smaller mirror tiles rather than a single big one.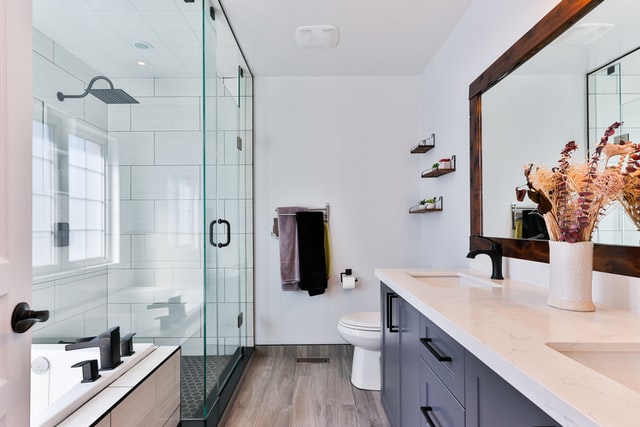 ---
5. Choose the right colour theme
Up to this point, our bathroom furniture ideas for the UK have largely focused on specific issues, such as how to make clutter a thing of the past or how to make the most of your bathroom space.
From here on, we're going to take a step back and explore a few popular bathroom design ideas as they relate to contemporary bathroom furniture, starting with colour.
Now:
A good colour theme is crucial for your bathroom's overall look and feel. Sure, you can play it safe and go all white, but where's the fun in that?
Instead, we recommend going for vanity units and cabinets in hues that will refresh your bathroom. Colours like satin blue, satin grey, indigo blue and our personal favourite, hunter green, are particularly on-trend at the moment.
You can go down several routes as far as bathroom colour themes are concerned – playful, moody, calming, moody and so on. Once you've decided, buy coloured bathroom furniture accordingly.
A word of caution, though:
Choose no more than two main colours; otherwise, you'll end up with a huge, jarring mess. Also, make sure you bring the tiles into the equation, not just the furniture – especially if you're going for wall-hung units, as we recommended earlier.
---
6. Embrace the contemporary look
Contemporary bathroom furniture typically comes with neat, glossy finishes. The units feature clean, straight lines and geometric shapes. Counter spaces are clean and uncluttered.
Furniture packs, which are basically combos of several bathroom components – for instance, a basin, basin unit, back-to-wall unit, toilet and cistern – are a key feature of the contemporary-look bathroom and one of the most popular fitted bathroom furniture ideas out there right now.
What's more:
They also have the added benefit of saving you time, since you don't have to shop around or worry about matching different units.
All in all – a win-win situation!
Another aspect of the contemporary look is the tendency to use wall-hung furniture – which, as we discussed earlier, also helps you make the most of your wall space.
Last but not least, houseplants will add a nice contemporary touch to your bathroom, as will a painting or two that complements your overall colour theme – perhaps a soothing landscape of some sort.
---
7. Go minimalist
Minimalist and contemporary bathrooms have a lot in common, and the looks can often be complementary. For instance, both have a focus on geometric lines.
That being said:
There are certain differences. The minimalist bathroom unit ideas trace their origin to the Modernist (mostly Bauhaus) interior design ideas of the 1920s, which emphasised functionality and practicality over aesthetics and everything else.
As a result, minimalist bathroom furniture tends to be devoid of any ornamentation while being incredibly practical and easy to use.
For instance, minimalist bathrooms often feature simple recessed cubbies for toiletries and handle-free vanity and storage units. They make the most of a smaller number of highly functional bathroom furniture items, such as a small bathroom sink unit.
In terms of colour, white tends to dominate; however, going for, say a red and white storage unit or vanity unit is quite common, with each main colour apart from white (typically, either red or black) having a specific meaning and effect on our senses.
To complete the look, you might want to once again hang a painting or two. But while with the contemporary look, we recommended having a soothing landscape, here we'd suggest an abstract modernist painting in the style of Kandinsky or Klee, with the main colours matching those of your bathroom decor.
Quite the difference, isn't it?
---
8. Add a touch of luxury
If minimalist bathroom furniture isn't your thing, then why not add a touch of luxury? Luxury furniture is next on our list of bathroom furniture ideas.
Check this out:
Nothing says luxury quite like marble. So, provided you can afford them, glamorous shiny marble furniture units are the way to go. For a more cost-effective alternative, opt for bathroom cabinets with a shiny metal finish.
The same thing goes for smaller items, such as towel rings and robe hooks. Choose products with a chrome or brass finish, which will complement your bathroom furniture.
But that's not all:
Curved shapes will soften the overall look and feel of your bathroom, adding a sense of calm and decadence. The trick here is to go for curved or round furniture units, especially around the basin and bath. When it comes to bathroom table ideas, curved tables, as well as mirrors, are a fantastic addition as well.
To complete the look and really make your luxury bathroom furniture stand out, think about lighting carefully. Make sure there's plenty of it and, if at all possible, fit a chandelier in the middle of the ceiling for that wow effect.
---
9. Go rustic
Did you know that rustic-style bathrooms are back in fashion?
Indeed, they are, and so is rustic bathroom furniture typically made from natural wood. Here, reclaimed wood is the most sustainable, environmentally friendly choice. And in case you had any lingering doubts, it looks absolutely stunning!
Think about it:
A wooden bathroom cabinet with a lovely oak finish will definitely become the focal point of your entire bathroom. And when it comes to rustic vanity unit ideas, you can go for one with a wooden worktop if you can't find a unit entirely made of wood.
Next:
Add heavy wooden shelves for extra storage room and wooden panelling, and you'll easily achieve the charming rustic feel you've been looking for.
Now you can relax in your rustic bathroom just like you're on holiday in the Austrian Alps.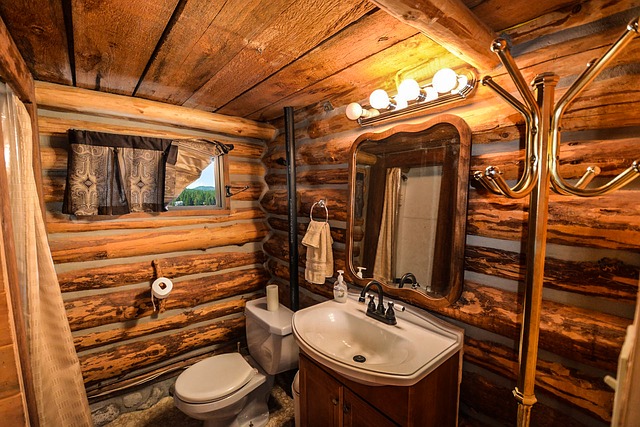 ---
10. Choose a period theme
Whether you're planning a bathroom for your brand-new home or going for a makeover, a period theme is an excellent idea, even if your property isn't necessarily built in a particular style. A period theme will bring an unmistakable sense of character and style to your bathroom, making it one of the outstanding features of your home.
Now:
When it comes to period bathroom designs in the UK, the most popular choices are Georgian, Victorian, Edwardian and Art Deco. If done properly, all four are extremely beautiful, and we couldn't possibly choose one over the other.
The good news is:
Nowadays, you can find the right bathroom furniture for all of them, as more and more manufacturers are picking up on the growing popular interest in period theme bathrooms.
But what exactly should you look for?
This isn't the place for a full-on guide to creating the perfect period bathroom, so we'll have to limit ourselves to a couple of brief examples.
Here's the gist of it:
If you're going for a Georgian bathroom, look out for elegant, curved lines in your bathroom furniture and bath. Alternatively, if a Victorian bathroom is your preferred choice, opt for a wooden plant stand and candles.
Whichever period you go for, make sure you do your research and plan carefully.
---
Final thoughts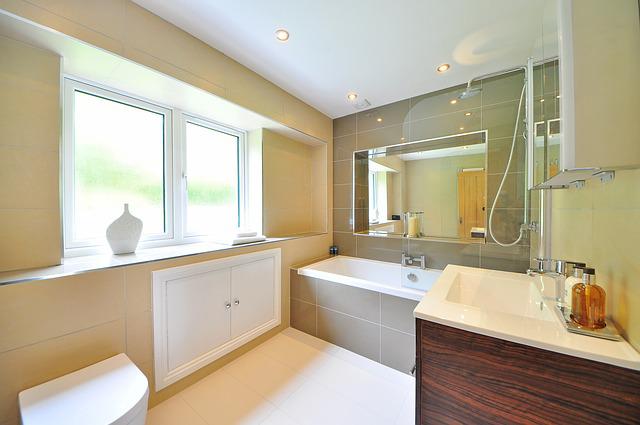 The bathroom is one of the most often used rooms in our homes. Unfortunately, it's also often one of the most neglected.
And yet we can all agree that nobody likes creaking cabinet doors, towers lying all over the floor and a random array of toiletries on the countertop.
It's high time we changed that!
Give your bathroom a much-needed uplift with one of our exciting bathroom furniture ideas!
The bottom line is:
You can improve storage, make the most of your bathroom space and give your bathroom a distinctive look and feel for a satisfying, calming bathroom experience.
Was this guide useful?
Let us know if you liked the post. That's the only way we can improve.
Thanks for rating this article.
Mentioned in this project guide: